Some of the more interesting and unusual jobs we do at the Laser Co are for our commercial laser cutting clients. Today we're showcasing some of these.
What do we mean by commercial laser cutting?
By commercial laser cutting, we mean projects where we provide an organisation, usually but not always a manufacturer, with a quantity of one or more items.
These items can be
Components of the client's product
Custom packaging or labels
Something used in the client's standard processes.
They are usually cut from acrylic or plywood, although we have recently started offering metal cut parts.
Why do clients use us?
Most of our commercial laser cutting clients have relatively small volumes. They might need a few dozen or a few hundred of each item.
At that volume, it's impractical to source from China or other overseas locations. The cost per item is very high, and there are also supply chain, communication and quality control issues. Local sourcing is far more effective, affordable and reliable.
For smaller companies, especially those with more niche markets, we're an ideal choice. Not all of them are aware of our services, but for those who use us, there's a positive impact on cost control, margins and market competitiveness.
Examples of commercial laser cutting projects
The range of items we've supplied is immense. Check out the example laser cutting projects below: then if you think we might be able to assist you, let's talk.
Packaging
1. We're very proud of our work with Heartbug, Australia's friendliest heart monitoring service. We cut and supply all the materials they use to make their boxes. Everything is custom-designed and cut to match their equipment, then to keep costs down we deliver it all flat-packed. They assemble the boxes as required.
2. This is a different packaging box. Once again it's custom designed for the client's specific product. (We can't tell you what that is for client confidentiality reasons.)
We cut these from 1.4 mm polypropylene. You can see the tags and slots which hold it in shape once it's made up. There are also holes designed to suit this specific product.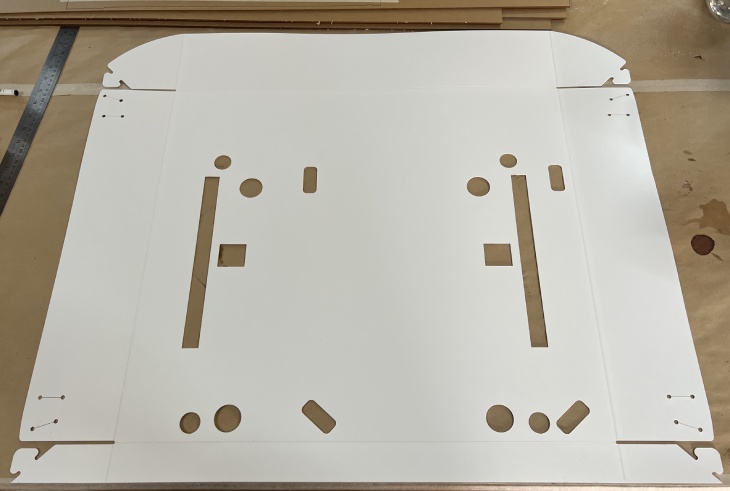 3. In this project, we cut packing foam to match products and keep them in place. This not only makes ideal packaging for fragile items, it's also great presentation for any kind of luxury or high-value product.
Instrument labels and control panels
4. These images show components which are added to equipment the client sells. We engrave them from two-tone acrylic and attach double-sided tape to the bottom side.
You can see how the panels
– identify what various controls do
– specify the type and purpose of the equipment
– enhance brand awareness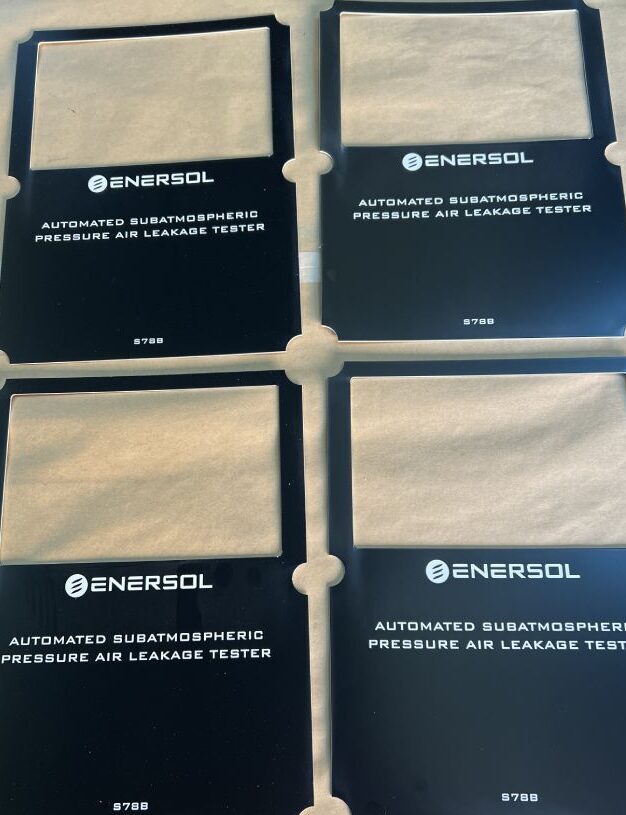 5. This was an interesting project where we created the instrument panel for a flight simulator. The two-tone acrylic used was attached to 12mm plywood with strong double-sided tape to create a solid instrument panel.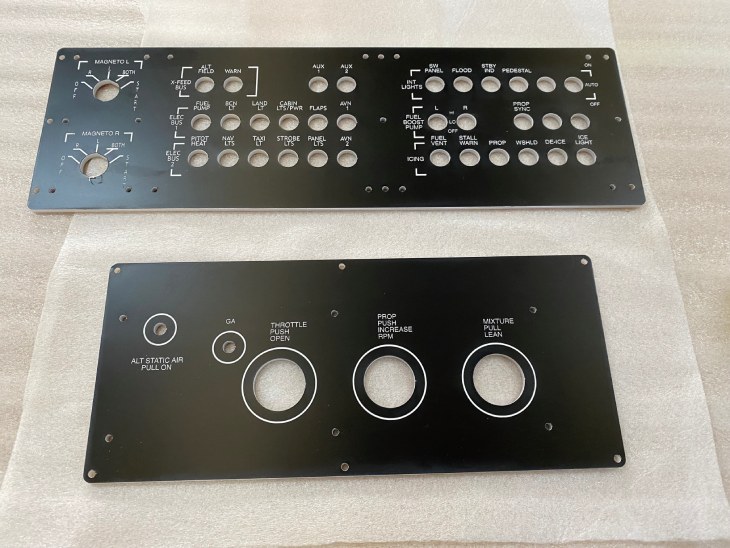 Jigs
6. Jigs help our manufacturing clients hold pieces in position and guide the tools they are using on those pieces. This improves product quality and consistency, as well as speeding up the manufacturing process. In the feature image for this article, you can see us cutting three different jigs used to produce three different pins.
Products and components
7. These small nylon shapes are actually insulating spacers used in electric motors.
8. We can also cut metal, like these parts of a high-performance exhaust system, cut from stainless steel. (This disc is 275mm in diameter.)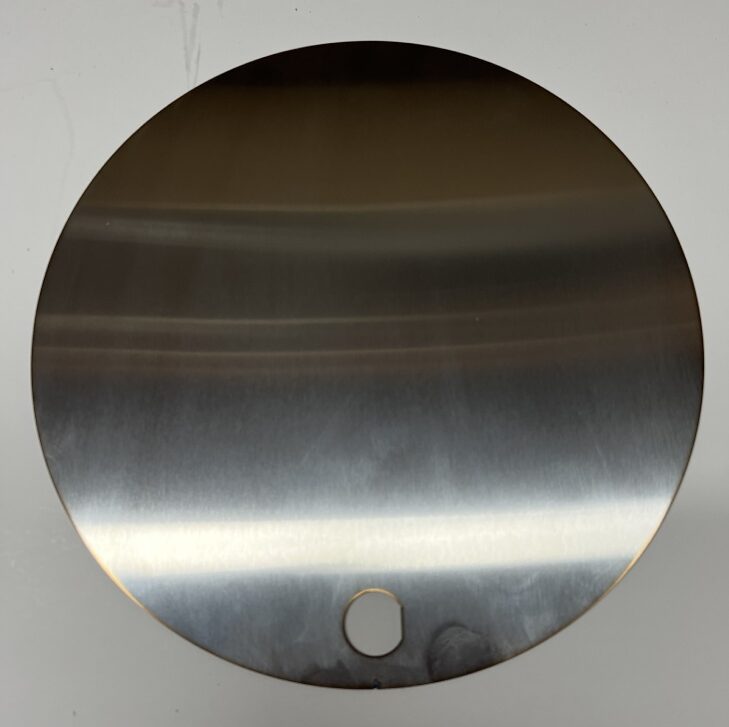 9. This custom cut acrylic isn't part of our customer's end product. Instead, it's something they use in all their work vehicles. They use a lot of hydraulic hoses, and these rings keep the tools used for the installation of the hoses in place so that the limited workspace is organised.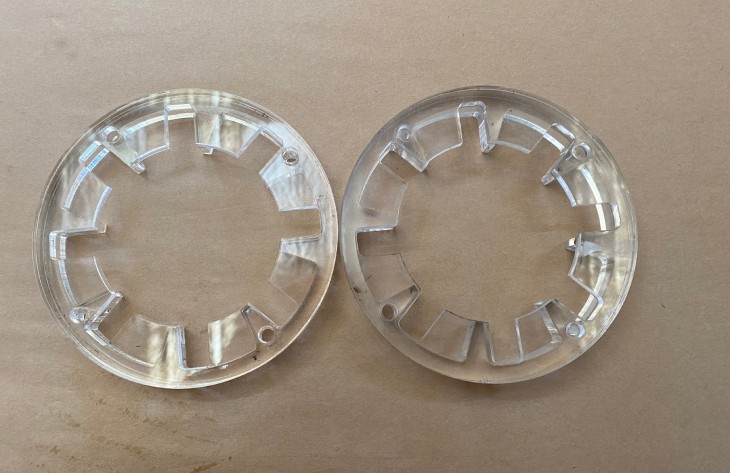 10. Another client uses a similar design principle on a much smaller scale for these items. They're part of an aquarium filter. The material is silicon rubber and is thin enough to be flexible so they can push hoses through and control where they go.

11. Here's another design which makes use of flexible material. These tags are used by a university in animal husbandry research. They attach to different poultry and animals so it's possible to identify each individual in the research.
These are made of polypropylene so they can be bent around the leg, with the arrow end then pulled through the slots to secure them.
12. We've also produced a couple of different designs for ways to keep cables tidy and organised.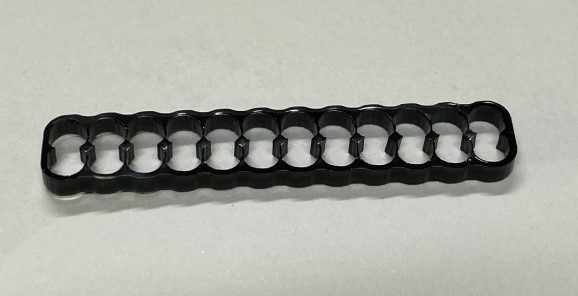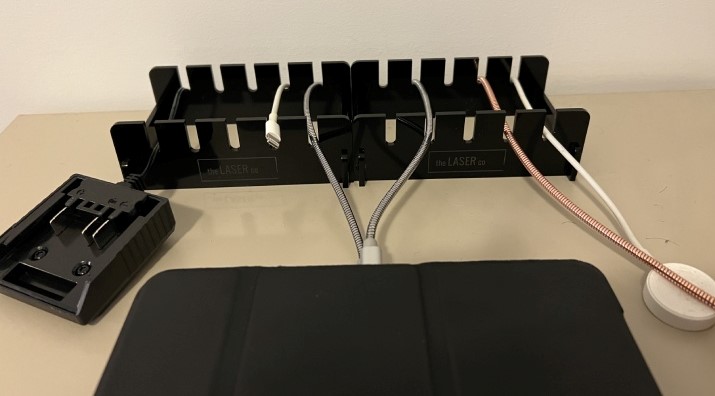 13. Finally, a product from a completely different market. During the height of Covid we cut all the parts for a client to make children's face masks! Cutting fabric to these smaller pattern shapes is quick and efficient compared to hand cutting.
The tags were an option to attach to the mask elastic so that it could fasten around the back of the head rather than looping over the ears.
As you can tell from the above, there's plenty of variety in our commercial laser cutting work.
We cut from materials including fabric, cardboard, plywood, acrylic, nylon, polypropylene and metal. We cut items from a few centimetres across up to 1200mm.
And we service clients from all kinds of industries, with a particular focus on custom small parts in relatively low volumes. We love helping Australian businesses overcome the challenges of manufacturing or sourcing exactly the part they want. So if you're having challenges sourcing a component or a custom-designed part, let's talk about how we can solve that issue for you.