Many people think of custom stencils as something artists use, but in fact they have a range of practical, commercial uses, as you'll see in this blog post. But before we go into specific examples, let's start with some basics about laser cutting custom stencils.
Size is not a limiting factor
Most of our jobs have a size limit of 1400mm x 1000mm, since we need to place the material flat in the bed of the laser cutting machine. Stencils are different. Since the stencil is not the final piece, a client can place two or more pieces next to each other. They have straight edges so they fit neatly together and no paint gets through the gaps.
However, we do pay careful attention at the design stage, to ensure spacing of elements is correct and consistent.
Choosing the best material for stencils
We make custom stencils from MDF, acrylic, polypropylene and cardboard. Whenever a stencil job comes in, I discuss usage with the client to make sure we pick the most appropriate material.
If you're painting onto a rough or curved surface, we recommend polypropylene. It's flexible and fits close to the surface, so you get a better end result.
We also ask about the kind of paint you're using. If it's water-based, we'll steer you away from cardboard or MDF to avoid your stencil disintegrating.
The number of times you expect to re-use the stencil is also important. Cardboard is the least expensive material, but it will only last for two to three uses. MDF can be used around 20-30 times. If you want more usage than that, polypropylene or acrylic is the way to go.
Finally, we look at the intricacy of the stencil work. For fine detail, it's better to use acrylic or cardboard. Laser cutting depends on heat, and materials like polypropylene have a greater tendency to melt, which means fine details may end up smeared.
Understanding the materials and matching them to client needs is how we ensure custom stencils which are fit for the job. It's one reason some of our clients come back regularly. Even the toughest stencils wear out eventually, although more often they come back with a change of design or font.
Examples of custom stencils
Water tanks and reservoirs
One of our clients produces water tanks and systems for agricultural uses. We make a variety of stencils for them, including the ones in our feature image, which they use to label inlets and outlets on the tanks. These stencils are around 500mm x 250mm.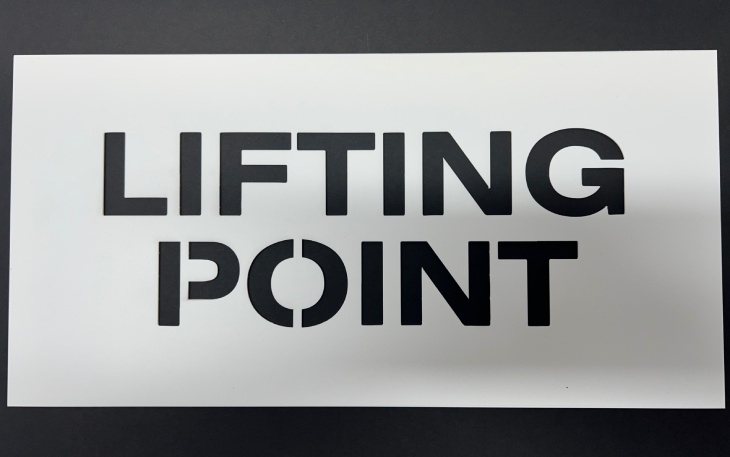 This 'lifting point' stencil is used on crates and cartons to show where straps should be attached, or where to insert forklift blades. It ensures the weight is balanced, which is important for heavy items and doubly important if there's water in a tank which could run to one side!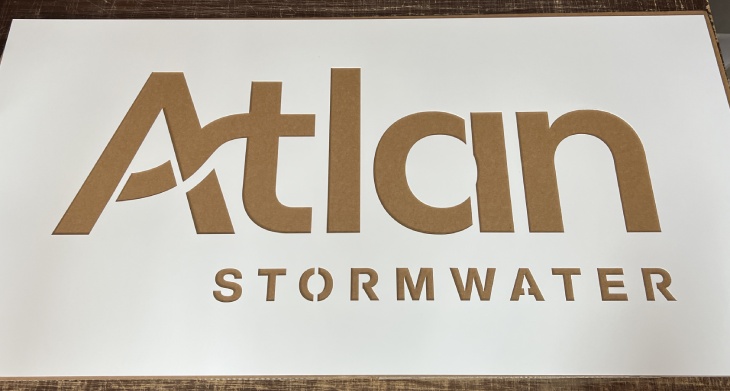 This stencil, designed to promote one of the company brands, is larger at 1200mm by 600mm.
Car park signage
Here's another large stencil. You can see that it's actually cut in two parts, with the overall length being around 1600mm. It was cut for a specialist car park contractor, we think for the car park of a surgery or hospital.
We supply custom stencils to several contractors who paint car parks. These examples satisfy much more everyday needs. We cut them out of 6mm MDF.
Number stencils are used for numbering parking spaces. For this job we produced four sets of the numbers from 0 to 9, so the client can mix and match as required. These stencils are used again and again, so we made them from polypropylene. Each number is a 225mm square stencil.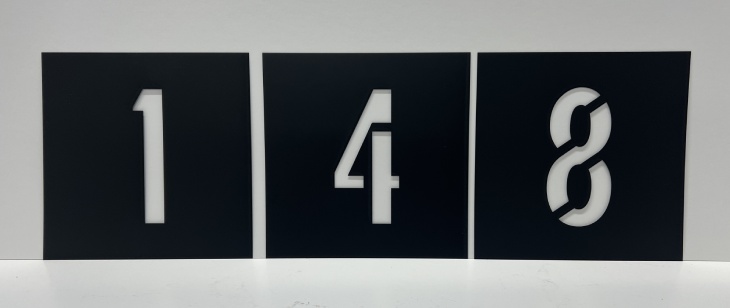 Marking equipment
This plumbing company ordered custom stencils to mark all their equipment: everything from toolboxes to cones they placed in the road. There's a double purpose. The aim is to reduce loss of items (hence the phone number) but the stencils work as branding too.
These are cut from polypropylene so they can be used on curved surfaces, and they come in two sizes (300mm x 150mm and 600mm x 300mm) for use on different items.
Custom stencils for branding
Metway and Endacomm are construction companies, who ordered these stencils with their logo and brand name. They used them to put their name on board fencing around construction sites.
Truly creative custom stencils
Finally, we had to share these stencils from Dom Warland, who's an architect based in Newcastle.
He designs artworks for some of his projects, which are built up by spraying different colours of paint through different stencils. We've included several finished pieces, plus a close-up of the condor's wing and a shot of one of the stencils being cut.
There's certainly a lot of work and design which goes into these particular stencils!
Do you use custom stencils in your business? If you do, or if you'd like to consider it in the future, get in touch and we can discuss the best options for you.