Many people assume that laser cutting is only really effective for two-dimensional projects like signage, but the truth is very different. Clever designs enable us to create all kinds of three-dimensional items, including display stands and other points of sale for retail.
This post showcases some of the projects we've worked on, including other applications for the same basic ideas.
Display stands
Let's start with display stands.
LiL's Cards
Our first three images show the same product – a display stand for LiL's Cards.
The owner had a similar plywood stand that she'd bought in the US, and she was looking for local, more affordable alternatives.
We reverse-engineered the design and constructed this. As you can see from the photo of an unassembled unit, these can be flat-packed for easy shipping. That's important since the display stands go to stores all over Australia.
This basic display design is customisable to suit all kinds of products, from cards to candles or trinkets. All we need to know is the dimensions of your product and how many you want to place on each shelf.
Branding options aren't just limited to what's engraved on the front. We can also use a different wood or even a different material such as acrylic.
Car display
This next example is a great illustration of using acrylic.
The units were actually made for a collection of Matchbox cars. You can see how there are small pieces inserted at the front to keep each car in place.
This design could also be modified to make each compartment into a little tray. That would be ideal for craft supplies (buttons, beads and more) or other small items.
Custom Shelving
These display shelves aren't free-standing like the previous examples. They're designed to fit in a specific space, and to take jars of a specific size.
The weight of all these spice jars could add up to something reasonably significant, so it makes more sense to have a fixed display. You can see in the first picture that we've pre-cut holes for screws so these are easy to attach.
Table centre display stand
Here's an alternative style which is ideal for the centre of larger flat spaces. With products placed on the different levels, there's more visual interest and the individual items are more easily visible.
Adjusting dimensions to fit your specific space requirements shouldn't pose problems. (Unless  you want something really extreme!)
Coral Key Rack
Here's another display option with a host of applications.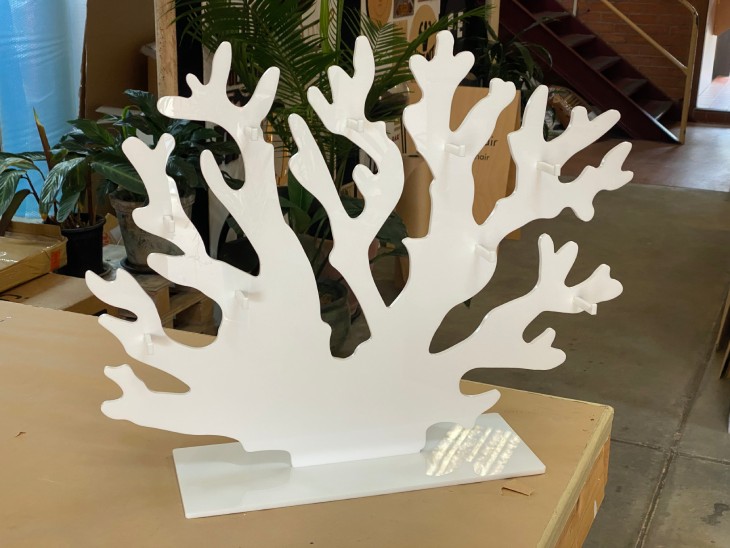 This request came from a business which had a lot of keys for different offices and storerooms. But the principle is applicable for any small hanging products:
The client specified the colour and the wavy coral shape. If you're after a different look but the same capability to hang small items, there's plenty of opportunity for customisation. Practical design considerations include:
A stable base
Hooks strong enough to bear the weight of your items, small enough for them to fit on, and with a small 'stop' to avoid things slipping off
Sufficient clear space below each hook for items to hang.
Foam inserts
Custom foam inserts to go in your packaging boxes not only make the product look great, they can protect it during transportation too.
This hammer project is one we're especially proud of, since it showcases two separate uses of our laser cutting equipment.
We engraved the hammer handles with personal messages, which makes them unique souvenirs and gifts worth paying a premium price for.
We also cut the foam padding which enhances their appearance and value.
We've helped turn an ordinary product into something truly special.
Clothing labels and rack dividers
Clothing is a huge part of retail, and here are a couple of solutions for the clothing sector.
Let's start with the obvious. These are branded labels for a clothing line.
They're made of 3mm plywood, which is very light, but still it's firmer than the traditional label which crumples or tears easily. This is an option to make your brand stand out.
Here's something more intriguing.
You've probably been in a clothing store where the racks are crammed full of product. These clever tags slot over the racks so that customers know where to look for the item they want.
The curved slot in the middle is where the metal bar of the rack fits.
Each tag is around 9 centimetres wide and 17 to 18cm long. That length gives it the weight and stability it needs to stay around the rack.  It also keeps it straight so that the writing on the top is visible.
Got your own ideas for display stands, shelves, tags or other POS?
As you can see, we have plenty of experience creating pieces which will work for your products and your brand. That includes a range of materials and colours – and even more importantly the expertise to adapt designs and to know when they're not going to work for your products. Plus we love the challenge of thinking through specific requirements and making it work.
You might be wondering whether the vision in your head is achievable. Or perhaps you've seen something which inspired you. Why not get in touch and find out what's possible.