From ritzy restaurants to corner cafés, hospitality venues need signage. It's not just about brand-building, it's about attracting passers-by and helping pre-booked customers find you. We've collected some examples of café signs to inspire you.
A-frames
Let's start with A-frames, also known as sandwich boards. These are the most popular café signs from all our range. Owners use them to gain attention and to show that they're open.
Our A-frames stand out from others in the Australian market as they're made from different materials. Our signs are wooden, made from locally supplied plywood. Other companies supply metal A-frames with corflute or painted metal panels.
What's the difference for you as a café owner?
Our A-frame café signs are heavier.
One of our standard size A-frame café signs weighs around 10kg. It's light enough for one person to set up and bring in, but if you're used to a metal sign you'll feel the difference.
They also look different. Whatever finish you choose, they look more solid. That means they're less prone to blowing over in the wind.
The level of water resistance depends on the finish. 




The painted finish is the most resistant of all. We always use Dulux Weathershield paint, so they'll survive most weather events.
Most have a standard timber appearance. They're varnish coated, but shows that the varnish is not quite as waterproof as the paint. We recommend placing these under cover, or bringing them inside and wiping them down if it starts raining.
Engraved timber A-frames definitely need to be kept out of the rain. The engraving process leaves a very rough finish – even though we coat with three layers of varnish, it's difficult to get into every crevice of that surface. So there's a very high risk that the black engraved areas will run if they get wet.
Engraved timber signage
Engraved timber isn't just used for A-frames. It's very popular for other café signs and fittings. In particular, we make a lot of signs to position above a cafe bar, or to insert in the bench front.
In all these examples, you can see that the signs come with pre-drilled holes which make it easy to attach them to a wall or hang them as desired.
Usually, these signs have the venue name or logo. The 'Merry Christmas' sign illustrated was a different angle on this.
We've also supplied custom table numbers, engraved with the number and the café logo, as in this example. 
And menu stands too. Just place your menu between two sheets of clear acrylic and slot into the base. 
All these engraved timber signs are for use indoors or under cover.
Layered signs
Layered signs, which can be painted, varnished timber or acrylic, are more suitable for outside use. Acrylic is the safest choice for areas exposed to weather.
There are many options here:
The backing board can be timber, raw, varnished or painted, or it can be acrylic in black, white or a colour of your choice.
The detail (top layer) is usually made from a 3mm acrylic, once again of any colour you choose. There are also options to apply vinyl to the backing board.
The key thing about all layered signs is the raised, or 3D effect. It's very stylish at an affordable cost.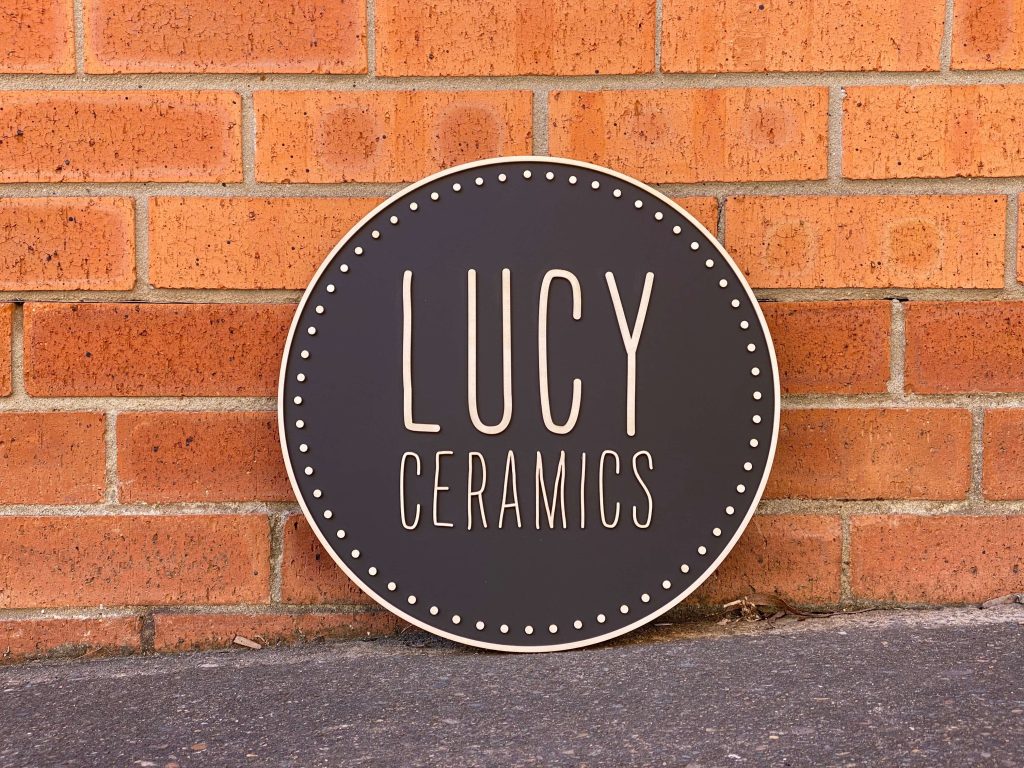 Floating café signs
Another popular option for café signs is the 'floating sign'. This is created and mounted in such a way that it looks like the text or logo is floating there on its own. 
There are fewer restrictions on size with floating signs. As long as the individual elements are small enough to fit our laser cutting bed, we can create them one by one. Then we supply an assembly template so that it's easy to put the right elements in the right place on-site. (Depending on the sign and its location, that could be a 'peel and stick' job, or could involve some clear mounting rails which don't attract the eye.) 
 ***
As you can see, café signs come in all shapes, colours, formats and sizes.  
Note, however, that larger signs are fragile, so finding a good delivery provider is a challenge. While we have good contacts within Sydney, we can't guarantee damage-free delivery interstate. 
 Apart from that, the limit is really your imagination. Hopefully this post gives you some ideas. If you need more, or if you've got questions, we'd love to talk.